MetLife Stadium Seating Chart
Sports Seating Map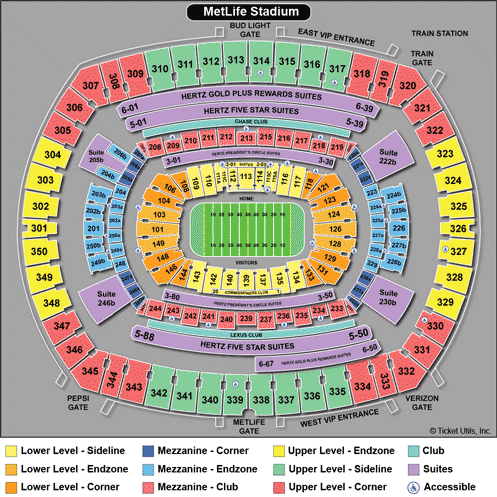 Concert Seating Map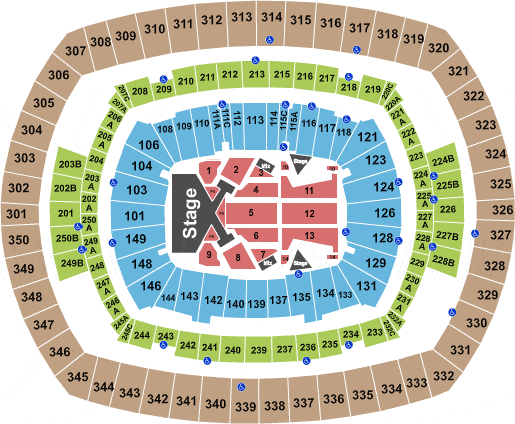 The MetLife Stadium has room for up to 82,500 people. All seats feature unparalleled views of the action, and luxurious leg room and seat width. An extra bonus to seeing the game in person are the high-definition replay boards, showing footage fans at home don't get to see. For an even more luxurious experience, the MetLife offers special club spaces. Designed by the prestigious Rockwell Group, the 10,000 seats and 4 club lounges provide access to the ultimate views, stunning sound sound, special amenities, and just the all-round best experience any fan could hope for!
Accessible Seating
The MetLife Stadium is an ADA-approved building, and is proud to provide accessible seating on all levels in addition to accessible restrooms and concessions stands. Alternative format materials, captioning and description, sensory inclusion, and special permissions for service animals are also available – please contact the venue prior to your visit with your requirements to ensure staff are on hand on the day to help you to have the best possible game experience!
NOTICE: Seating configurations can vary depending on the type of event. Be sure to check the individual event seating chart when selecting your desired tickets.
Reserve your seat today by purchasing your tickets!
To find out more information on ticket policy and our recommended ticket supplier please view the MetLife Stadium tickets page.
To view all the upcoming events at MetLife Stadium please visit the MetLife Stadium events schedule page.